rebranding
2018

λογότυπο και
επανασχεδιασμός
2018
The PAL logo followed the company for more than thirty years, indicating all its products, actions and activities. In 2018, we were asked to redesign the logo in the context of general brand renewal.
Το λογότυπο PAL ακολούθησε την εταιρία πάνω από τριάντα χρόνια, σηματοδοτώντας όλα της τα προϊόντα, τις ενέργειες και τις δραστηριότητες. Το 2018 μας ζητήθηκε να επανασχεδιάσουμε το λογότυπο στη λογική της γενικότερης ανανέωσης του  brand.
The final proposal is a purely typographical solution.
Η τελική πρόταση αποτελεί μια καθαρά τυπογραφική λύση.
Our brief was to focus on the alignment with the new corporate font, legibility enhancement, brand consistency and a more consumer-friendly approach that will go hand in hand with the marketing approach for the years to come.
Τα σημεία που στοχεύσαμε ήταν η τυπογραφική εναρμόνηση με τη νεά εταιρική γραμματοσειρά, η μεγαλύτερη αναγνωσιμότητα, η συνέχεια της εταιρίας και η πιο φιλική προς τον καταναλωτή προσέγγιση.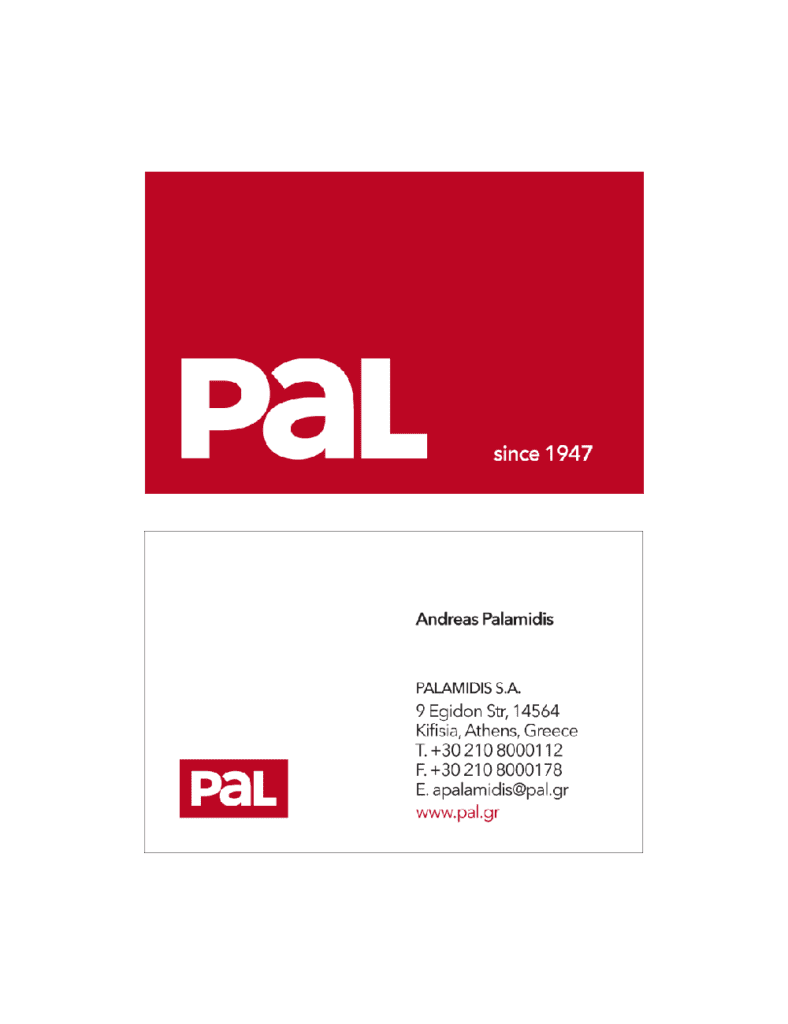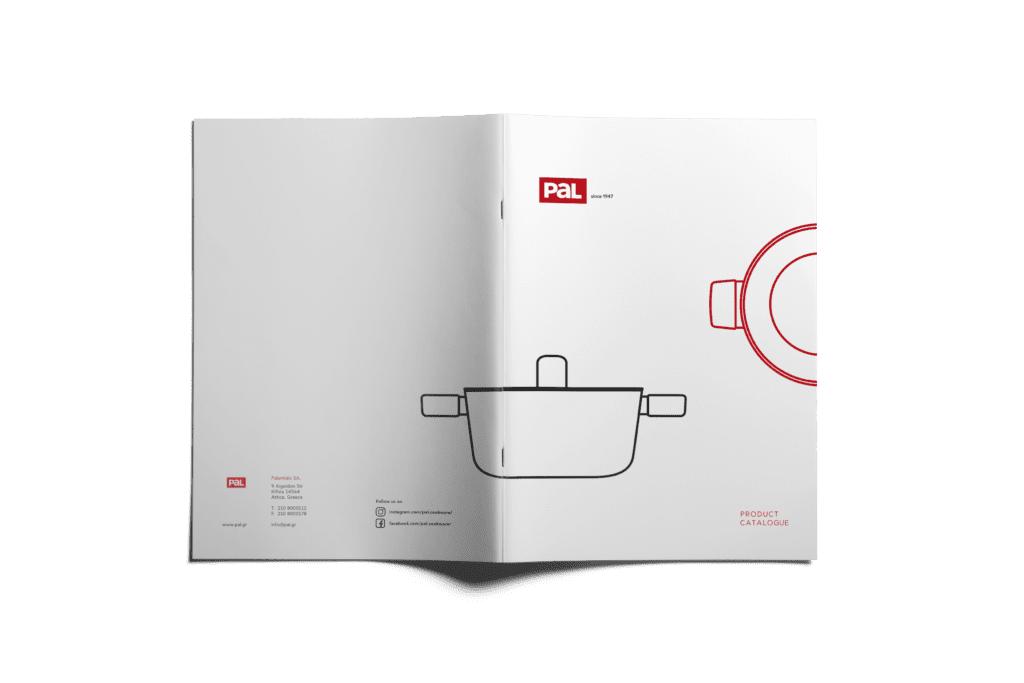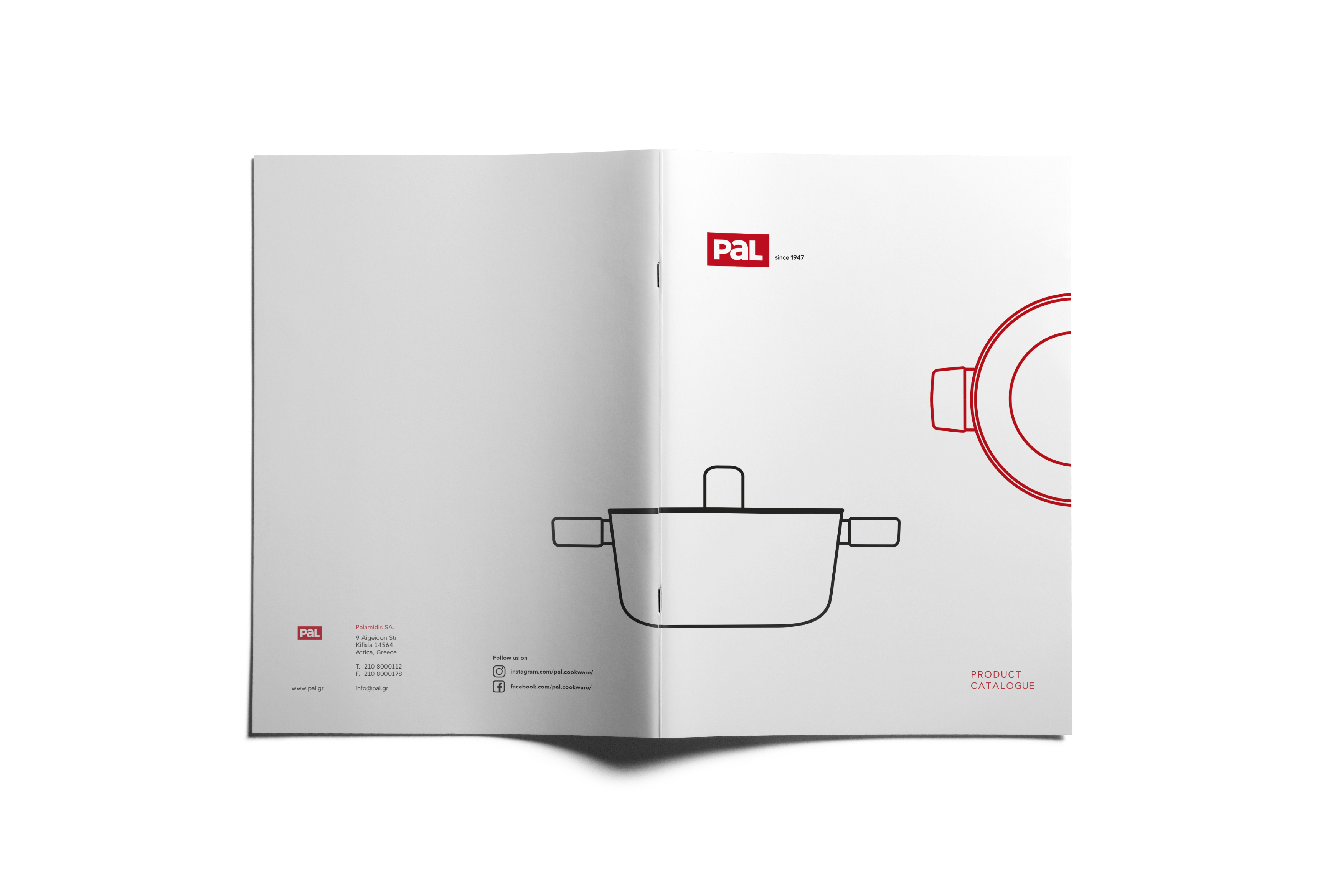 granite series
σειρά granite
product identity
2015
ταυτότητα προϊόντος
2015
PAL is one of our long term clients and a pioneer in the Greek kitchenware market. Over the years, we have managed to design various graphics applications for the brand, ranging from cookware packaging to products catalogue, and even full website construction.
Η PAL είναι μια εταιρεία από τους διαχρονικούς πελάτες μας, καινοτόμος στην ελληνική αγορά οικιακών σκευών. Έχουμε καταφέρει να σχεδιάσουμε διάφορες εφαρμογές για την συγκεκριμένη μάρκα. Από συσκευασίες σκευών μέχρι προϊοντικούς καταλόγους μέχρι και ολική κατασκευή της ιστοσελίδας, οι εφαρμογές μας ανά τα χρόνια έχουν καλύψει κάθε ανάγκη που έχει προκύψει.
The Granite Series is a product range of the PAL brand regarding top quality cookware equipment. With its state of the art, design, and unparalleled durability, it is certainly one of the top lines in the Greek kitchenware market. We wanted to design a dedicated and special sleeve for this particular range in order to enhance this already beautiful product.
Η σειρά Granite είναι μια από τις προϊοντικές σειρές της μάρκας PAL, που προσφέρει υψηλής ποιότητας οικιακό εξοπλισμό. Με εξαιρετικό σχεδιασμό και απαράμιλλo ανθεκτικό σίγουρα είναι μια από τις κορυφαίες σειρές σκευών στην ελληνική αγορά. Θέλαμε να σχεδιάσουμε ένα ειδικό και ξεχωριστό sleeve για την συγκεκριμένη σειρά με σκοπό να ενισχύσουμε ακόμα περισσότερο την αισθητική του προϊόντος.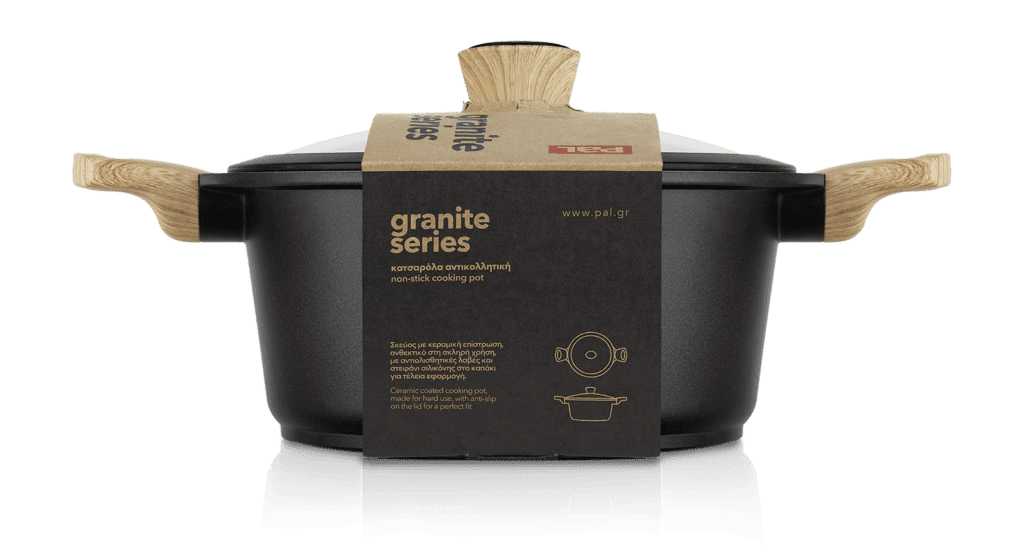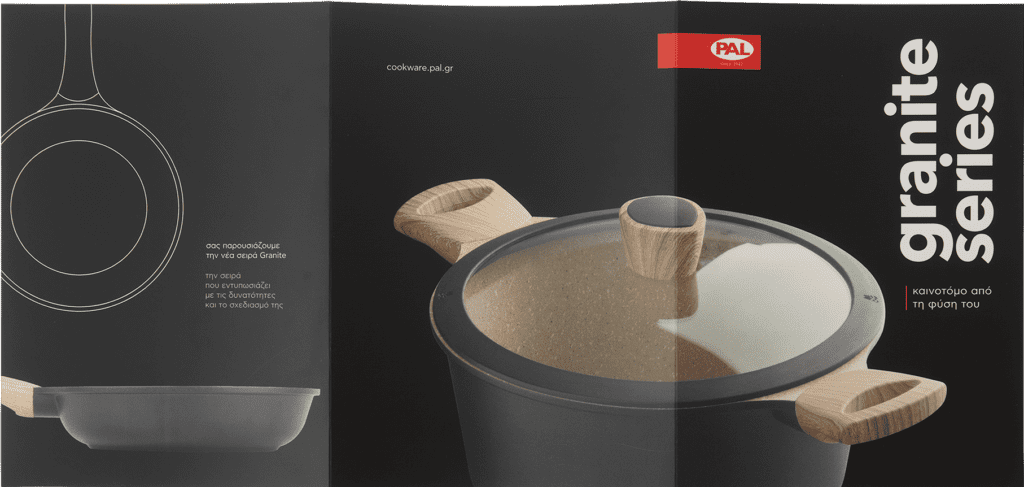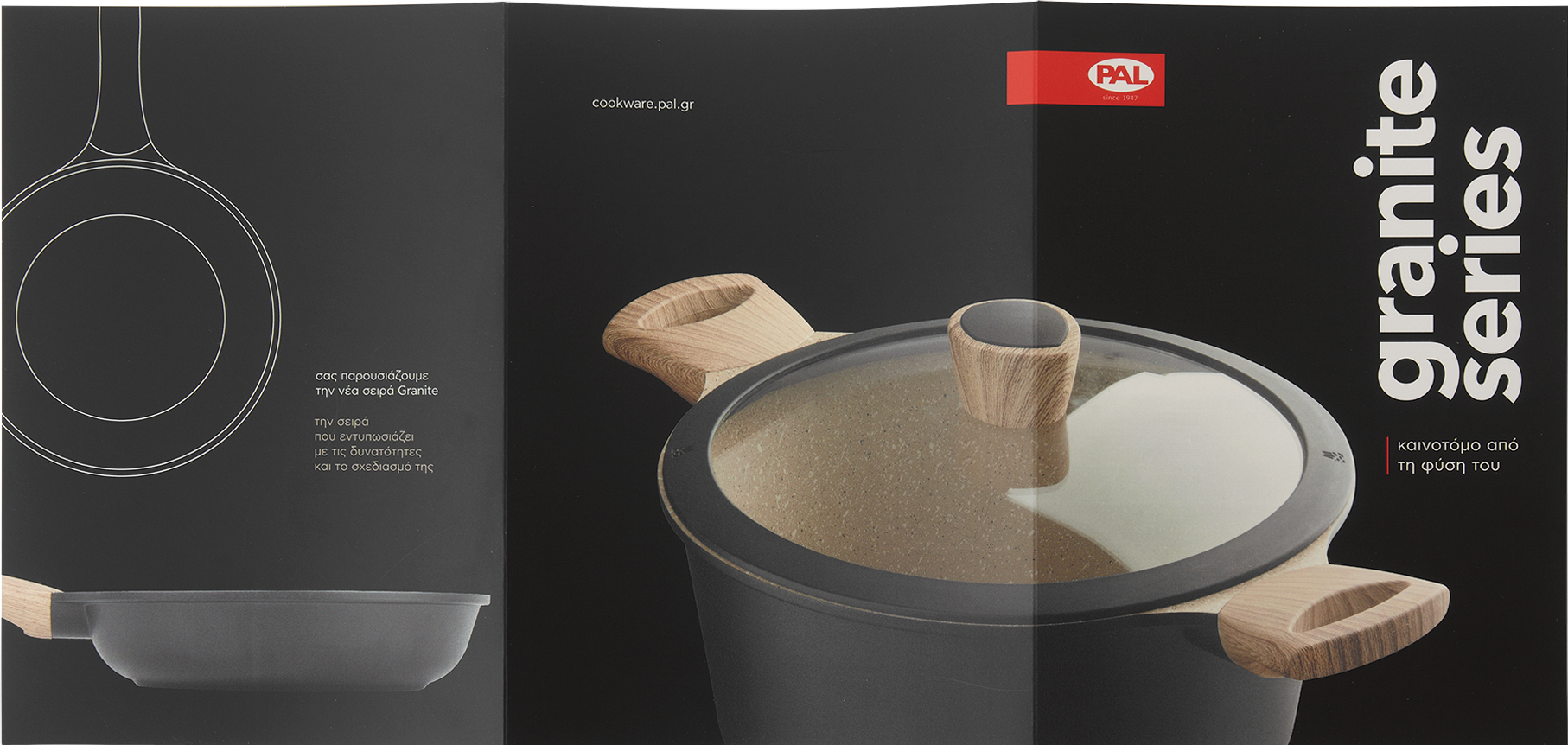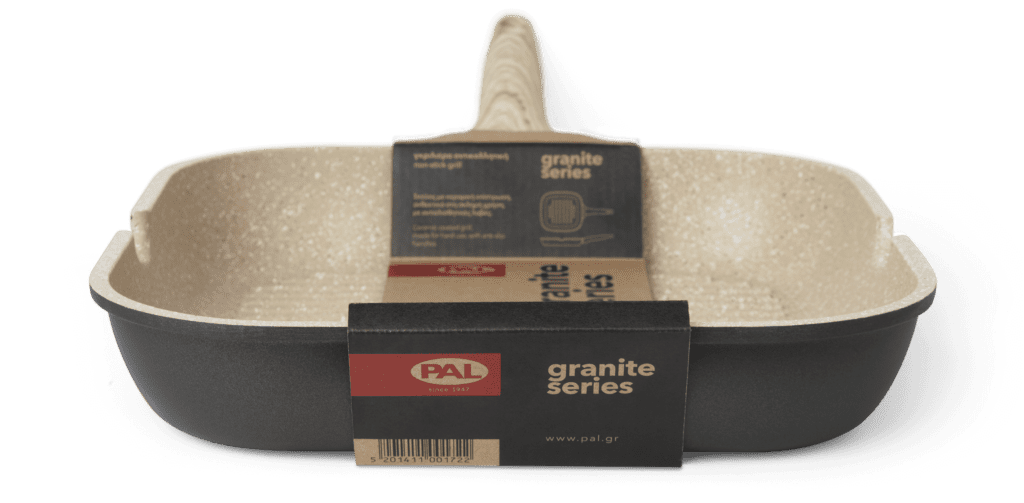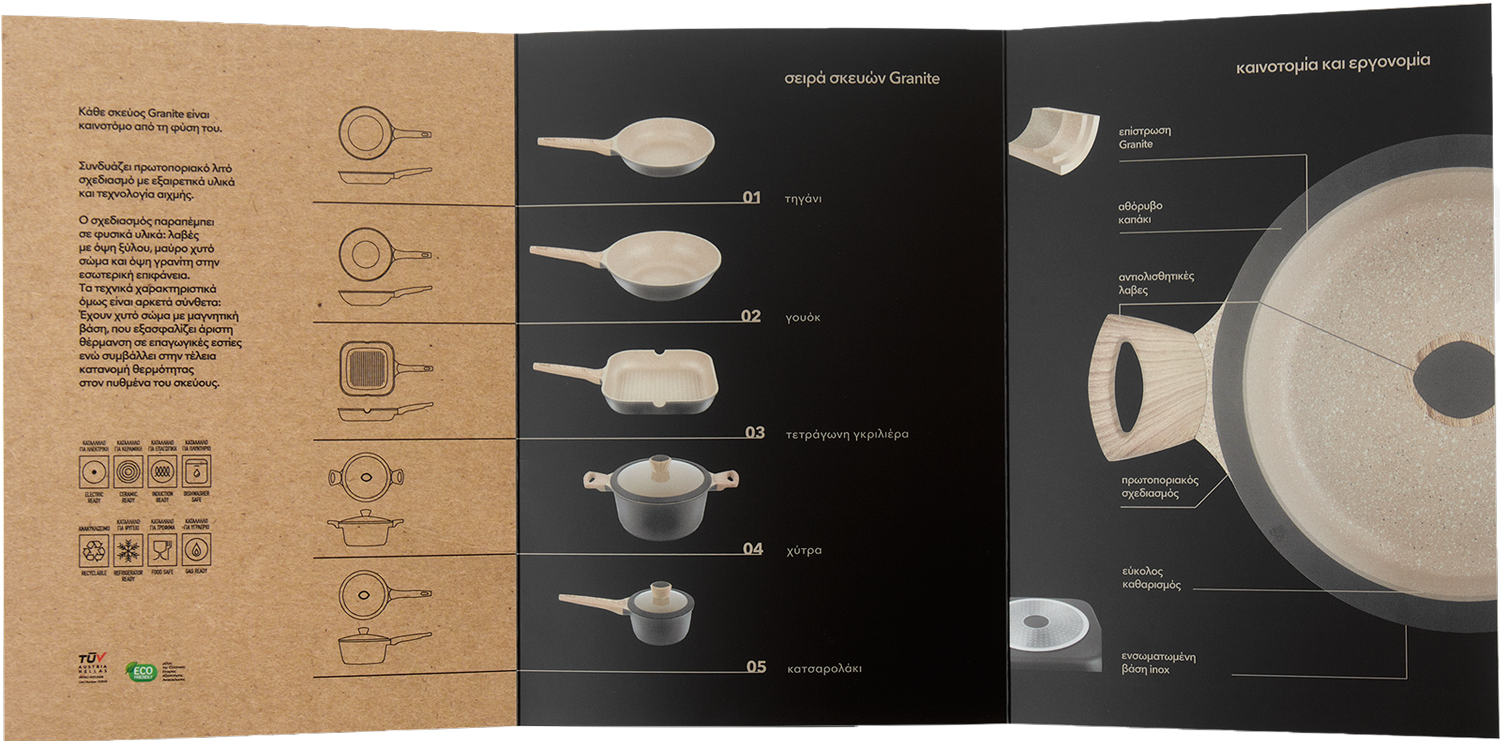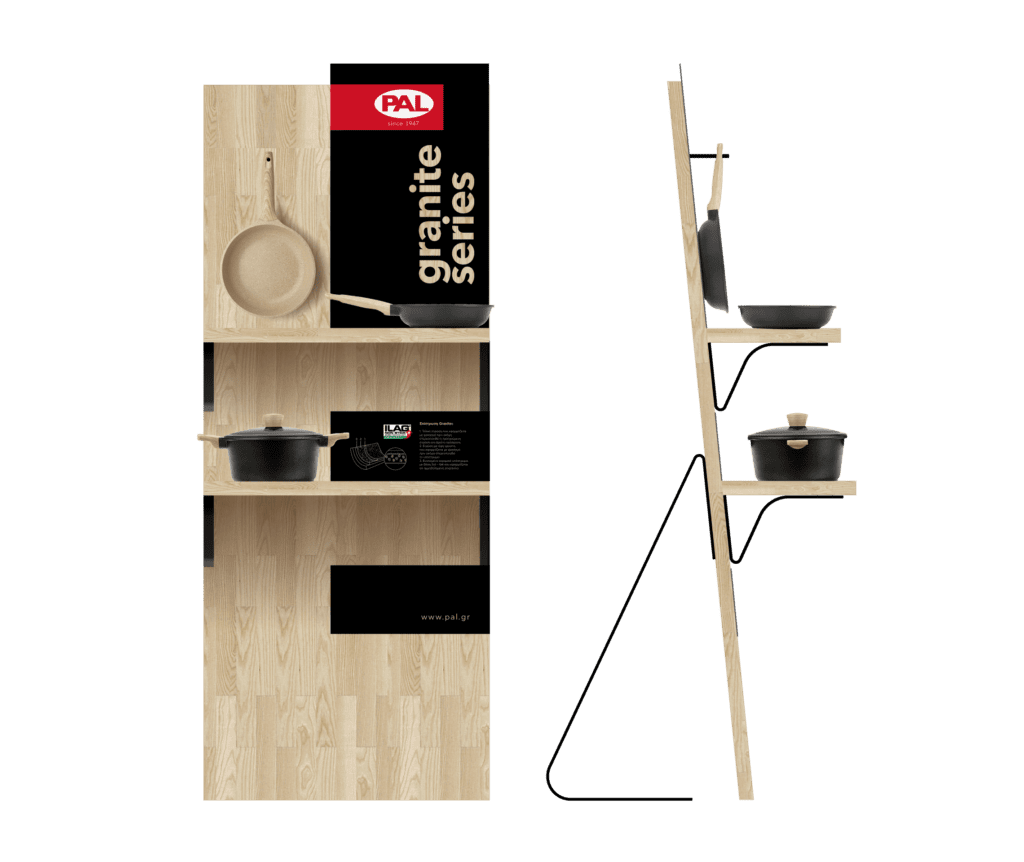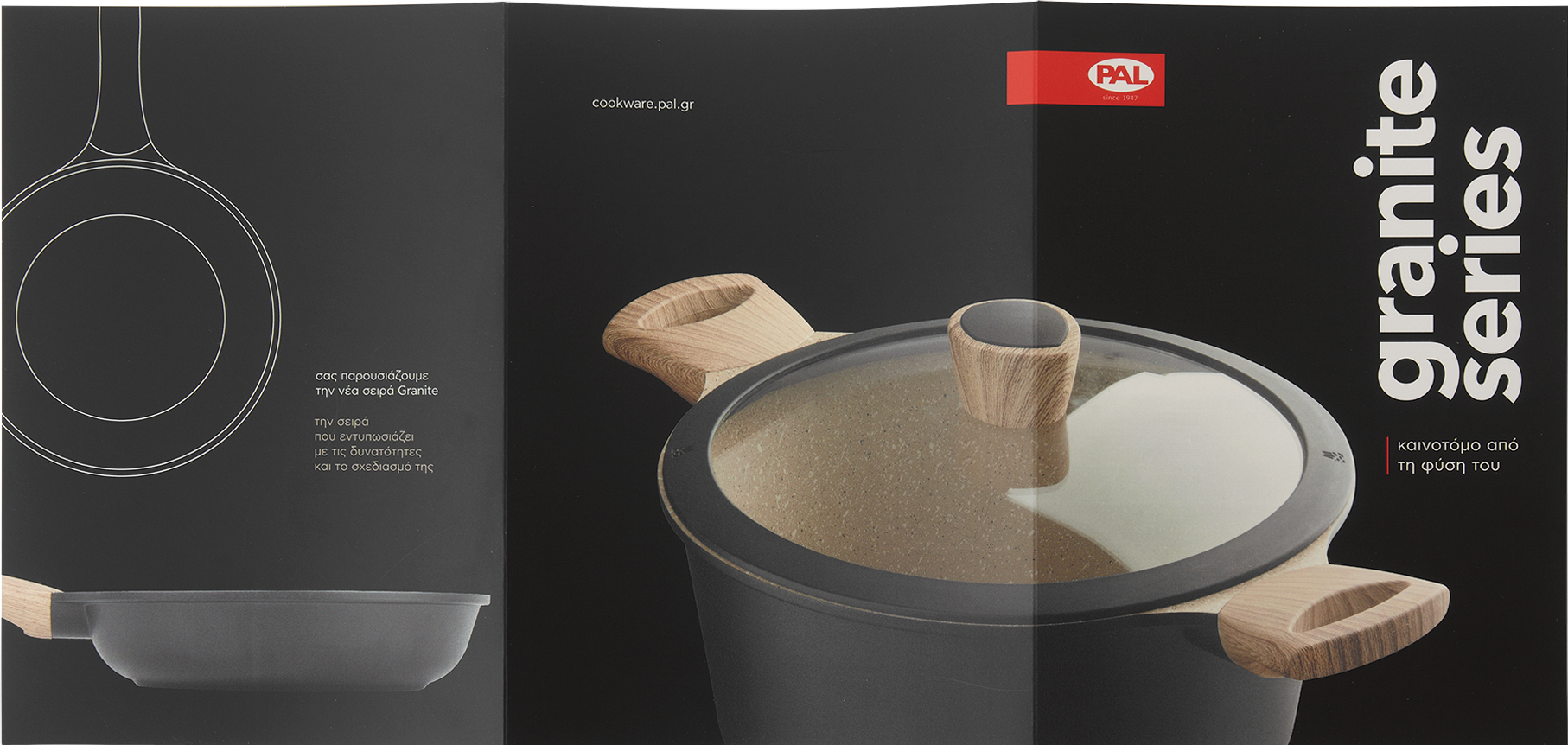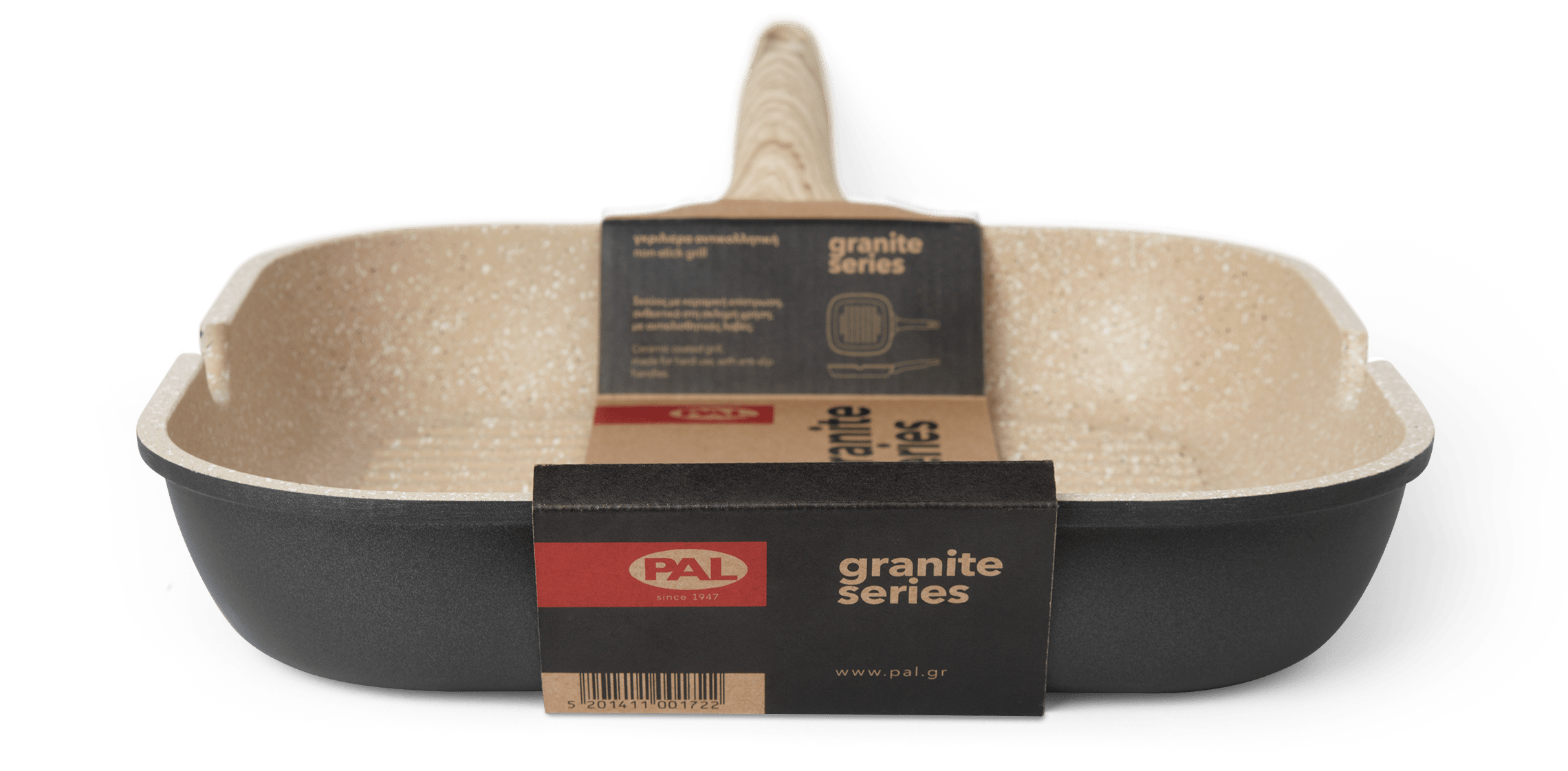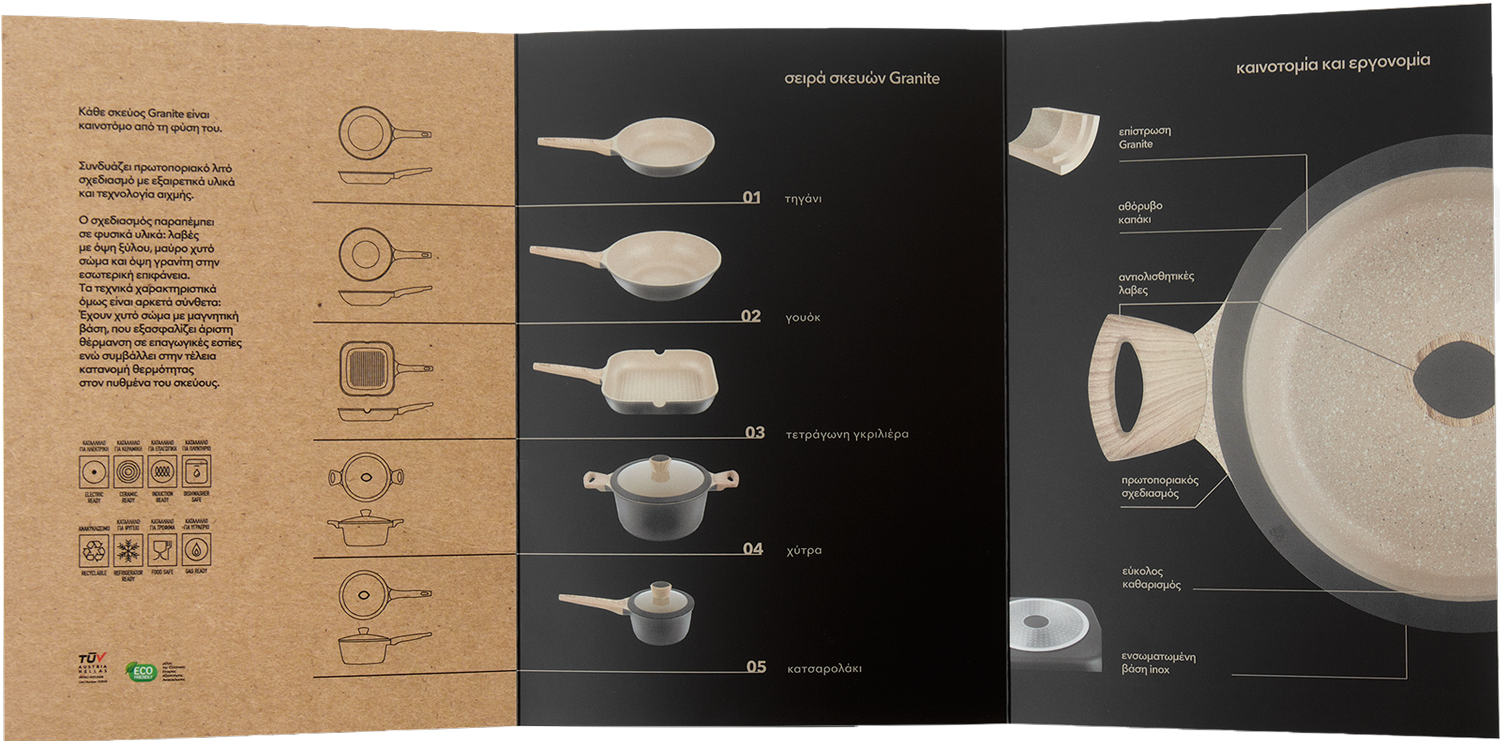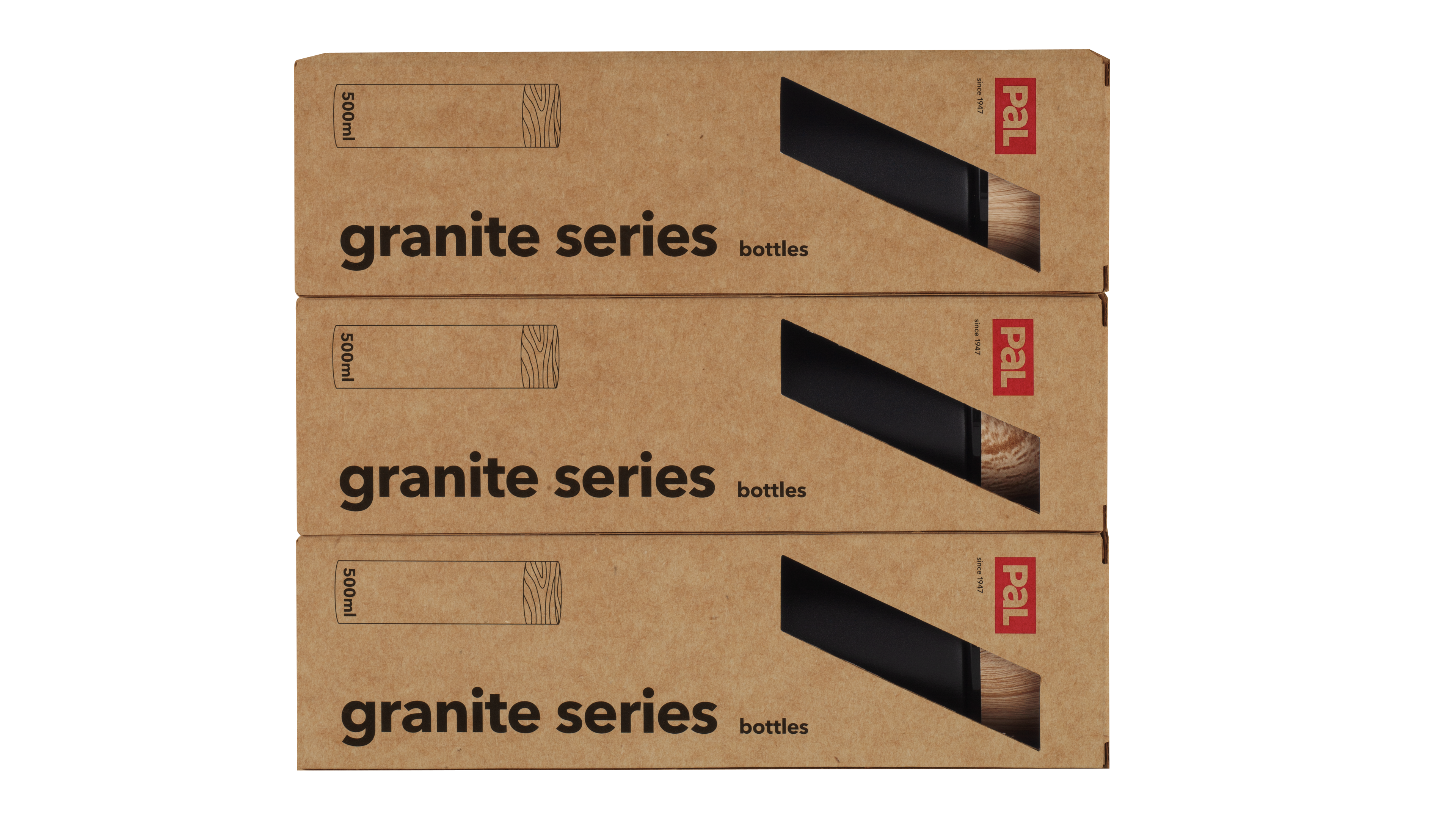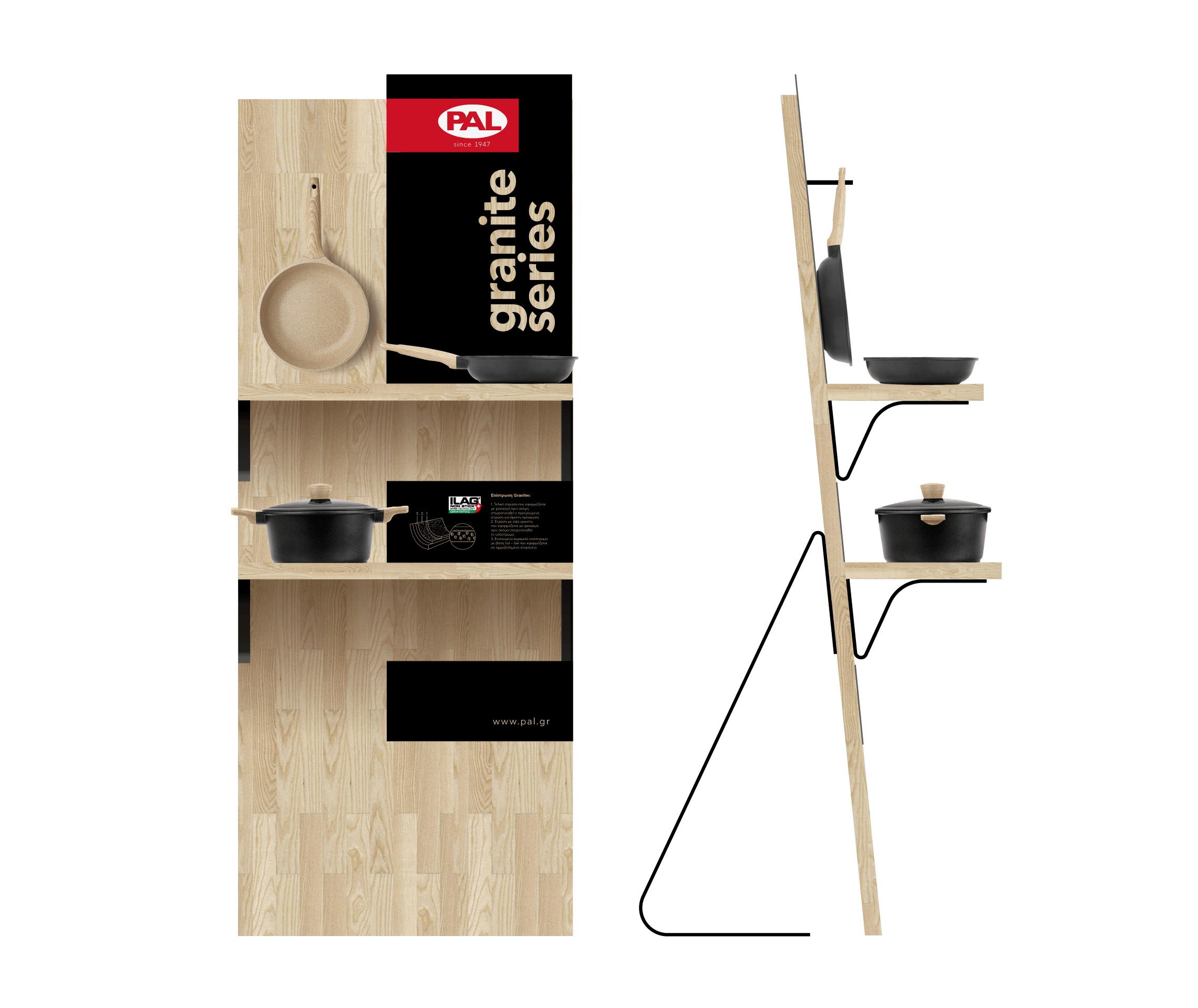 cookware and packaging
websites
2016-2017
σχεδιασμός websites σκευών μαγειρικής και συσκευασίας
2016-2017
The PAL industry is currently divided in two major sections. Kitchenware development and packaging division. For these two sections we wanted to design two separate websites that share the same aesthetics as well as common functionality elements like database, product filters, etc. 
Η βιομηχανία PAL χωρίζεται σε δύο βασικές δραστηριότητες. Την παραγωγή σκευών μαγειρικής και το τμήμα συσκευασίας. Για τους δύο αυτούς τομείς έπρεπε να φτιάξουμε δύο ξεχωριστά site τα οποία να μοιράρονται εκτός από κοινό σχεδιασμό, και κοινά τεχνολογικά χαρακτηριστικά όπως βάση δεδομένων, φίλτρα προιόντος κλπ.
The process included many steps of understanding the product line-up, specifications and unique features. Αlong with the website design we undertook the task of photo shooting all products. We aimed at showcasing all industry products in a common and accurate way. 
Η διαδικασία περιελάμβανε πολλά στάδια κατανόησης της σειράς προϊόντων, των προδιαγραφών, και των ιδιαίτερων σε κάθε περίπτωση χαρακτηριστικών. Μαζί με τον σχεδιασμό της ιστοσελίδας αναλάβαμε το έργο της φωτογράφησης όλων των προϊόντων. Στόχος μας να παρουσιάσουμε όλα τα προϊόντα της βιομηχανίας με έναν κοινό και λεπτομερή τρόπο.
In conclusion, we are proud of creating the two PAL websites; by aiming for in-depth comprehension of both facilities, we achieved a major upgrade of the whole corporate image by global market standards.
Συμπερασματικά είμαστε περήφανοι για τη δημιουργία των δύο ιστοσελίδων για την PAL αφού εμβαθύνοντας στην κατανόηση των δραστηριοτήτων, συμβάλαμε στην αναβάθμιση της εταιρικής εικόνας της εταιρίας σε διεθνή standards.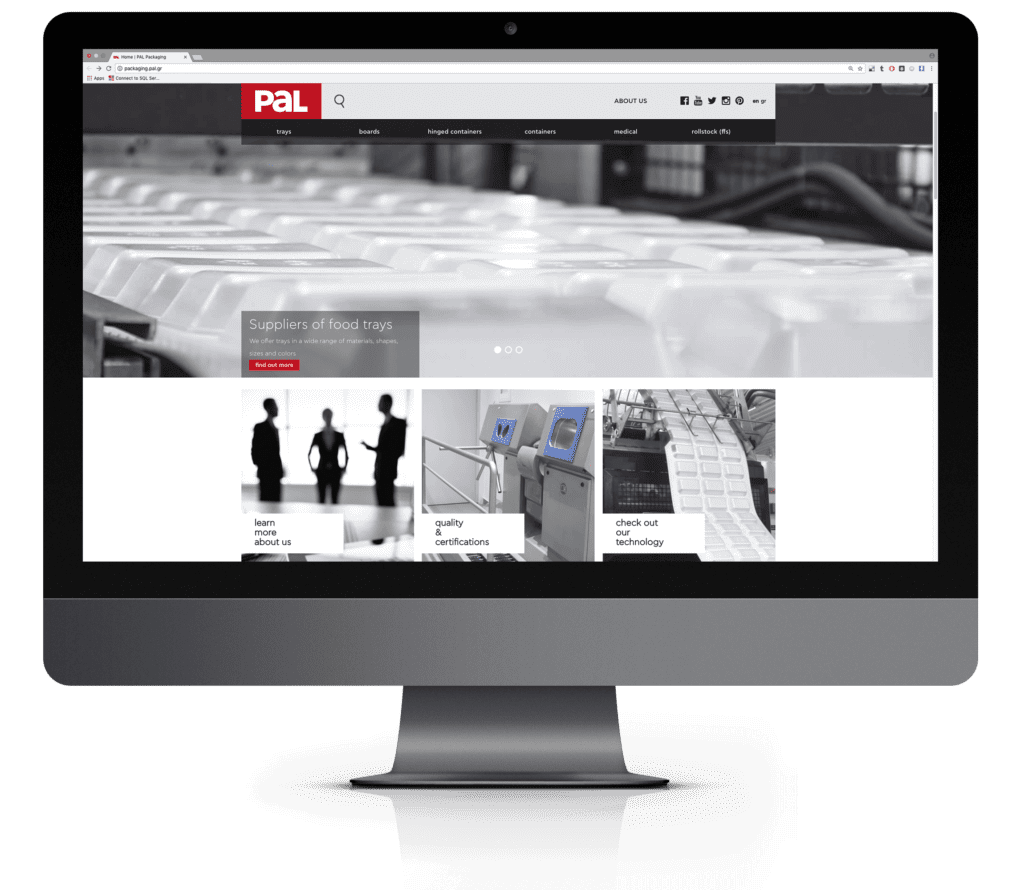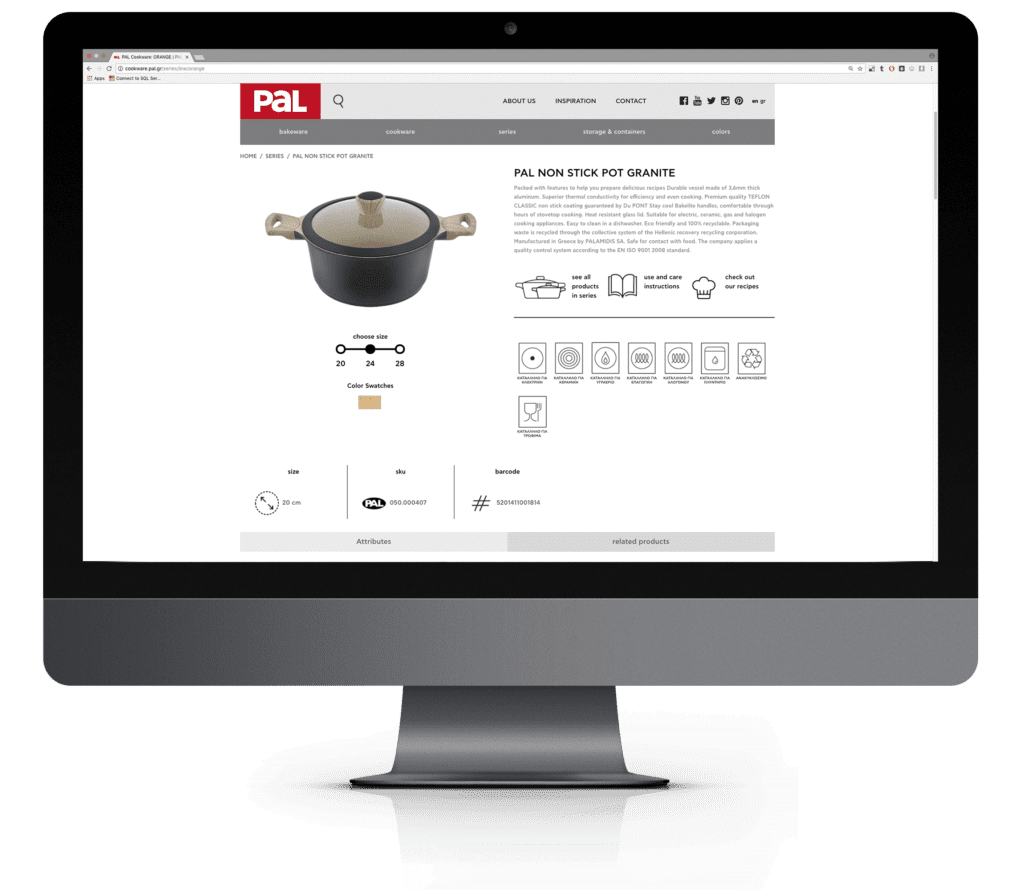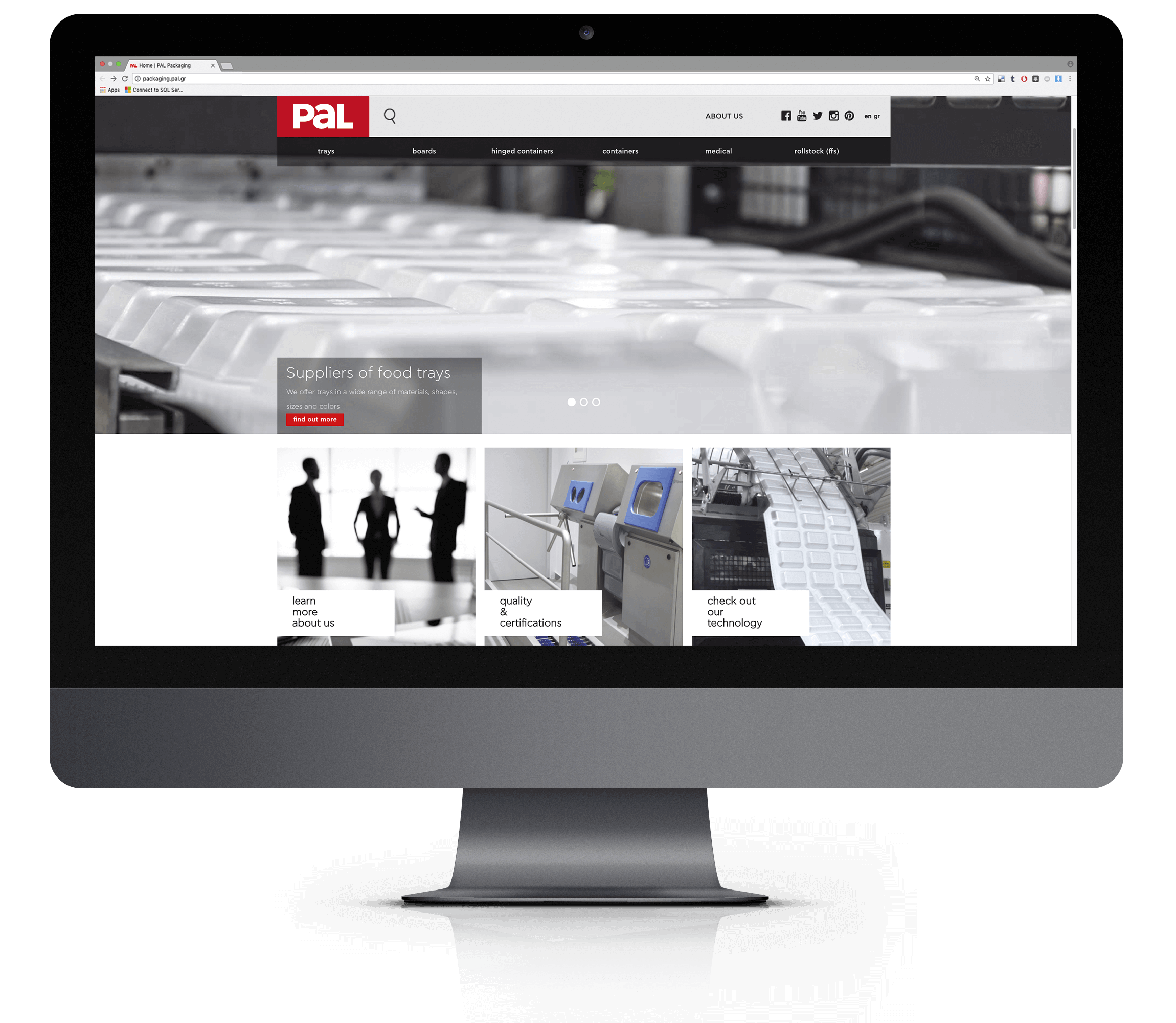 corporate brochure
2016

εταιρικό έντυπο
2016
PAL's corporate brochure was a tricky task indeed. It featured a rather straightforward brief but with a small twist. PAL's aim was to have a cohesive corporate brochure which, at the same time, would be easily detachable so it could be divided into categories. 
Η εταιρική μπροσούρα της PAL ήταν ένα πολύπλοκο project. Το brief ήταν αρκετά ξεκάθαρο αλλά με μια μικρή μεταστροφή. Η PAL ήθελε μια ενιαία αισθητικά μπροσούρα που ταυτόχρονα όμως θα ήταν εύκολα αποδομήσιμη και θα μπορούσε να χωρίζεται σε κατηγορίες ώστε κάθε φορά να προσαρμόζεται σε έναν ξεχωριστό τύπο πελάτη. 
So we came up with this idea of the rubber band and the tailor-made spine, and the result was quite special and has the contemporary aura that best describes PAL as a brand.
Σκεφτήκαμε λοιπόν αυτή την ξεχωριστή ιδέα με το λάστιχο και την ειδική ράχη που δίνει ένα εξαιρετικό αποτέλεσμα με ειδικό χαρακτήρα αλλά και μια σύγχρονη αύρα που περιγράφει αρκετά καλά την PAL ως εταιρεία.