visual identity,
rebranding
2018

οπτική ταυτότητα
2018
WorldBridge is a payment institution and a Western Union representative in Greece. In 2014 we created the name and designed the paylink network logo that marked the stores that used WU's services.
H WorldBridge είναι ένα ίδρυμα πληρωμών και αποκλειστικός αντιπρόσωπος της Western Union στην Ελλάδα. Το 2014 είχαμε δημιουργήσει το όνομα και σχεδιάσει το λογότυπο του δικτύου paylink που σηματοδοτούσε τα καταστήματα που χρησιμοποιούσαν τις υπηρεσίες της WU.
In 2018, we were tasked with designing the entire corporate identity that includes the WorldBridge central brand logo and applications as well as three main services it provides.
To 2018 μας ζητήθηκε να σχεδιάσουμε το σύνολο της εταιρικής της ταυτότητας που περιλαμβάνει το λογότυπο και τις εφαρμογές του κεντρικού σήματος WorldBridge καθώς και τριών κύριων υπηρεσιών που παρέχει.
Thus, we designed four new logos to meet the B2C needs of the group and to compose the necessary unified visual language for the needs of B2C communication.
Έτσι σχεδιάσαμε εξ'αρχής τέσσερα νέα λογότυπα αφενός που να ανταποκρίνονται στις Β2C ανάγκες του ομίλου, και αφετέρου να συνθέτουν την απαραίτητη ενιαία οπτική γλώσσα για τις ανάγκες της B2C επικοινωνίας.
In this challenging project, bold but also very thoughtful design decisions were taken so that the identity is contemporary and at the same time a continuation of the previous visual language.
Σε αυτό το δύσκολο project πάρθηκαν τολμηρές αλλά καλά νοημένες αποφάσεις ώστε η ταυτότητα να είναι σύγχρονη και ταυτόχρονα να αποτελεί συνέχεια της προηγούμενης οπτικής γλώσσας.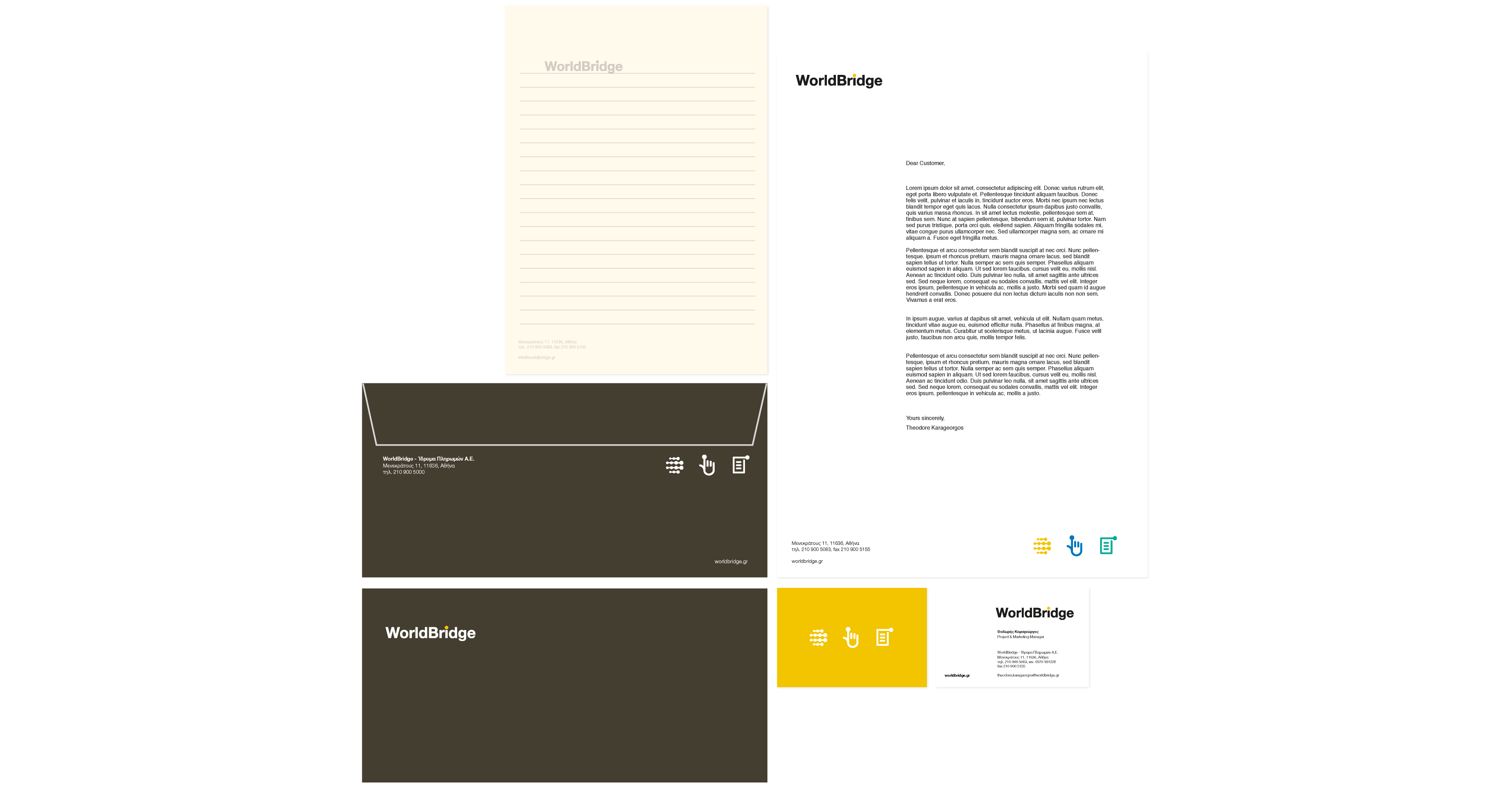 brand name, logo, taglines
2014

ονοματολογία,
λογότυπο,
σλόγκαν
2014
Paylink is part of the WorldBridge – Payment Institution. It efers to the retail stores network that offer the Western Union services. 
Η paylink είναι μέρος της WorldBridge – Ινστιτούτου Πληρωμών. Αφορά το δίκτυο καταστημάτων από τα οποία προσφέρεται πανελλαδικά οι υπηρεσίες πληρωμών της Western Union.
Our aim was to make paylink seem an accessible and easy to use service for everybody. Initially we developed the name and the slogan for the start of this brand. 
Mας ζητήθηκε αρχικά μέσα από την οπτική ταυτότητα και ένα νέο όνομα να αναδείξουμε το paylink ως προσβάσιμη και εύκολη στη χρήση υπηρεσία για όλους. Αρχικά ξεκινήσαμε με το όνομα και το slogan της εταιρείας.
Later on, we designed the logo that is based on the idea of safety and corporate responsibility; as well as the internationality and the global connections the brand provides.
Αργότερα σχεδιάσαμε το λογότυπο βασισμένο στην ιδέα της ασφάλειας και της εταιρικής ευθύνης όπως επίσης της διεθνικότητας και των παγκόσμιων συνδέσμων που η εταιρεία παρέχει με τις υπηρεσίες της.
We also thought of a new visual identity to further complement the new logo.
Σκεφτήκαμε επίσης μια νέα οπτική ταυτότητα για να συμπληρώσουμε περαιτέρω το νέο λογότυπο.